Cambodia isn't the same country as it was almost half a century ago. Today, Cambodians welcome all people with open arms, whether you're on vacation or planning to retire in their picturesque cities.
With its booming economy and tropical weather, Cambodia seems like a nice place to settle down after your career. But before you get a plane ticket and start living the life, read on! I'll show you things you need to know about retiring in Cambodia, from its pros and cons down to their retirement villages.
Why Retire in Cambodia?
Before anything else: Why Cambodia? It's known as one of the top Asian countries to retire in for a reason!
"When retiring in Cambodia, you can enjoy their tropical weather and the friendly locals!"
Amazing Culture
Cambodia is known as the Kingdom of Wonder because of its rich local culture! It has a mix of the country's unique traditions and a bit of French influence, so expect to see many wonderful places.
You can find ancient temples, view amazing architects from the country's colonial cities, preserved coastlines and islands, as well as vast greens and mountains! You can immerse yourself in the culture and explore with the welcoming locals who would love to show you what Cambodia is all about.
Fun Lifestyle
Cambodia is filled with many beautiful cities that range from rural to urban lifestyles.
Phom Penh is the capital where many expats settle down in, with everything retirees need. You've got the combination of old and new, from luxurious property developments and malls, down to cultural tours and lively nightlife.
"Southeast Asians welcome Westerners with open arms, making it an amazing country to retire in!"
Siem Reap is perfect for expats who love history and want to divulge into the culture
and traditions of the country. Known as the temple town, this city has numerous temples, local markets, and is home to the infamous "Pub Street," so expect an even better nightlife here! You get a mix of relaxed and fun environments without much of the traffic.
And there are so many more cities you can retire in or visit as you settle down. Everything is nearby, as you can travel by private car or public transportation.
You won't get bored in Cambodia since activities are abundant and there are many things to do! You can ride motorcycles all day long, do humanitarian work with NGOs, as well as try lifetime sports like jogging and tennis. If you're up for adventure and relaxation, Cambodia is definitely the place.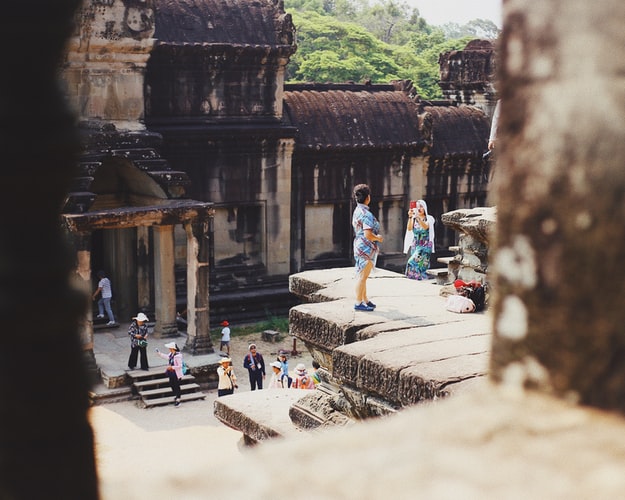 Cost of Living
Did you know that Cambodia is one of the cheapest places to live and retire in? It's the major reason why foreign senior travelers decide to retire here, as you can live luxuriously compared to Western countries.
To give you an idea of how inexpensive the country is, here are the average costs of typical expenses for retirees according to Numbeo:
Rent for a 3-bedroom apartment in the city: $1,025 monthly
Utility bills, including Internet access: $150 monthly
Full-time housekeeper: $120 monthly
Groceries for two people: $100 to $200 monthly (there are local markets so you can save more!)
Monthly public transportation pass: $30
3-course meal for two people in a mid-range restaurant: $20
There are also other luxuries you can invest in, with beet costing less than $1 or delicious meals costing less than $5! Massages can cost around $5 an hour, and dates with your spouse will be inexpensive, with $50 taking you to amazing places.
Even on just your Social Security checks, you can live quite decently. The average Social Security pension is about $1,500 monthly, which can give you a luxurious and upper-middle-class life.
Great Healthcare
Healthcare is an important concern for many retiring seniors. Fortunately, the Cambodian government prioritizes improving its healthcare system thanks to the assistance of international organizations such as the World Health Organization.
Major cities now have various pharmacies and quality hospitals you can visit for check-ups or emergencies. Healthcare is also inexpensive, with insurance available, so you won't have to worry about the hefty expenses.
With all this in mind, there are other things you have to consider.
Because Cambodia is still a developing country, it's a poor one that may have inconsistent services. You may not find great healthcare in rural areas, with minimal access to medication and good hospitals.
"Cambodia isn't perfect, but its amazing lifestyle opportunities make up for its small issues!"
There may be safety concerns as well because of its crime rate. However, there is now a Warden Network to help increase your safety in the country, passing emergency information from the Embassy to their citizens in Cambodia.
Furthermore, it might be a bit hassling to receive retirement income from their country. You can't be mailed your Social Security checks, as they need to be deposited to your bank account.
However, all these are just very minor issues. As long as you travel wisely and stay in reputable retirement villages, there won't be a problem and you can enjoy your time in peace.
Top Retirement Villages in Cambodia
In Cambodia's best cities and resorts, you receive the best healthcare and security services. That way, you won't have many issues to worry about as you live your life in the country.
They don't have retirement villages made for senior foreign travelers just yet, but they do have homes you can stay for the long-term! If you're not sure where to stay, check out these amazing cities:
1. Phnom Penh
As mentioned, this is Cambodia's capital city with a population of around 2.5 million people. The population soared from the waves of property developments, high-rise condominiums, apartments, and skyscrapers.
Because of the oversupply of new apartment units and luxury villas, retirees can find discounted rates and affordable rent!
Many of these condominiums and villas are accessible to hospitals, local markets, malls, and everything you want and need as a retiree.
2. Sihanoukville
Sihanoukville is perfect for those who want the beach life, as they are recognized as the country's premier coastal resort. In fact, it has boomed in the tourist industry, with many tourists living here for the long-term.
There are modern apartments with various facilities, minutes away from the nearest beaches to live your days with beautiful views. Simply walk or drive to your choice of beach and ride the waves or read a book the entire day!
You also have a combination of rural and urban lifestyles, leaning towards the former. That way, you can still enjoy your days in peace and quiet while enjoying the nightlife.
3. Kep
Tired of that hustle and bustle of the city and want to really settle down around nature and beaches?
Another picturesque city near beaches and historical attractions is Kep. If you're more into laidback lifestyles near nature and stunning countrysides, you'll love walking around here in peace and quiet.
Good neighborhoods have very affordable rent, already including everything you need to feel comfortable and at home. Here, you can have a sense of freedom without worrying about high prices and the busy traffic.
All of these cities are accessible via the airport, so your family can visit your property for a mini-vacation!
How to Arrange Your Retirement in Cambodia
Do you feel like Cambodia is the perfect place to retire? Then start preparing for your visa!
The Cambodian government welcomes expats, so the visa process is straightforward. There are different visas offered, and as a retiree, they have a special category. When applying for one, be sure to get the regular, or E-class, visa and not the tourist one.
When you apply for the e-class visa, apply for the ER (retirement) extension. You will need to pass these requirements:
• You are 55 years old or older
• You are not employed
• Proof of your retirement such as social security or pension document
• Proof of funds in the bank, showing bank or retirement fund statements
You will also need your valid passport and cash (in US dollars). Apply for a visa on arrival, but for retirees, it's better to apply ahead and go online for an e-visa. You can also head on to the Cambodian embassy if you can't go online.
"The retirement visa process in Cambodia is relatively easy as long as you have all your requirements prepared."
These visa extensions are valid at various lengths, usually up to one year. The visa, including the extensions, will cost about $290 annually with multiple entries.
Once you have your visa, make sure that your Social Security pension goes straight into your bank account rather than have a check delivered. Then, you can check online for awesome places you can rent for the long-term in any of the Cambodia cities I mentioned above.
When your finances, accommodation, and flight are all set, let your family and loved ones know where you'll be going, and pack all of what you need.
You can now begin your new life as a retiree and explore Cambodia once you touchdown!
Wrapping It Up
Cambodia is a great place to retire in, with the Cambodian government even encouraging it! From welcoming locals to the relatively low cost of living, many foreign senior travelers would enjoy the lifestyle.
But of course, you have to think about whether or not the country is good for you and your own preferences. Visit Cambodia for a few weeks to see if this is "the one" for you and take the right steps in getting your visa!
Good luck and stay safe!