Wellness is Vietnam's way of life, which is why it's one of the best countries to visit when you want to reconnect, restore, and rebalance your mind, body, and soul. After all, the country is home to ancient and spiritual healing traditions, all of which were rooted in their history at least a thousand years old!
That's why you can find numerous wellness retreats and resorts around the country. But where in Vietnam should you go and what else is there to know about wellness retreats? Read on to learn more about wellness retreats in Vietnam!
What Is Special About Wellness Retreats in Vietnam?
Why go all the way to Vietnam for your wellness retreat instead of the nearest spa at home?
Wellness tourism has good potential and is now growing in Vietnam. Since the country is home to many wellness destinations and landscapes, you won't only be provided luxury treatment, but be surrounded by spectacular views to enhance your relaxation!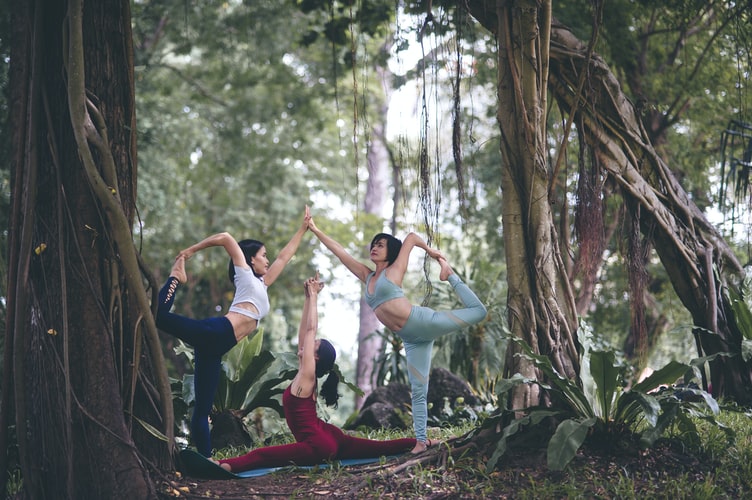 Sure, it may be quite pricey for luxurious wellness resorts, but compared to similar retreats in Western countries, you might actually save a bit more in Vietnam, which has a significantly lower cost of living!
In fact, Vietnam was listed as one of the top tourist destinations for wellness tourism services in Asia! Thanks to its peaceful atmosphere, affordability, as well as the traditional culture, you get everything you need for the much-needed break.
"Yoga has been practiced for thousands of years and offers a host of amazing health benefits!"
Besides this, wellness retreats centered around yoga (like most Vietnam resorts focus on), give you a number of amazing health benefits, such as:
• Improved sleep and lowered body pain
• Better physical functioning, balance, and flexibility
• More positive outlook in life and mental health
• Teaches you patience and slows you down from the hustle
• Tones body and burns calories for confidence and a better-looking body
When matched with like-minded people, beautiful surroundings, clean diet programs, and other fun, relaxing activities, you can definitely look and feel like a different (and better!) person after your trip in Vietnam.
Wellness Activities in Vietnam
Wellness retreats in Vietnam focus more on various types of yoga. These are some of the major yoga techniques you can expect to learn during your retreat:
• Hatha Yoga, which is the source of Yoga best for those with normal health conditions from beginner to advanced levels
• Vinyasa was developed from Hatha yoga, which involves strong movements combined with good breathing
• Gently Yoga is best suited for seniors and those who have difficulty moving
• Yin Yoga is a form of slow yoga, made best for women
There are also specific yoga styles that would satisfy specific needs, whether it's for relaxation, mindfulness, better body, and/or mental health.
But of course, there are other programs and activities you can expect to do in wellness retreats in Vietnam!
Tai Chi, Meditation, and Other Exercises
These are wellness techniques that help in finding your balance. Similar to yoga, they can improve your breathing and mental health!
Wellness retreats would also provide other sports activities, providing gym facilities and cross training. This is helpful for those who aim to improve their mind and body for weight loss or gain.
Diet and Cooking
Vietnam boasts of a delicious and diverse cuisine that involves a lot of flavorful herbs, spices, and a lot of fresh fruits and vegetables!
Wellness retreats focus on these types of healthy dishes, offering a wide array of diets and cleansing programs for detoxification. Not only can you go for organic and vegan options, or pure juice cleansing and fasts, but you also learn more about how to make various dishes and eat healthier to improve your intake even after you're home.
Meet the Community
What's awesome about wellness retreats is that you get to meet like-minded people who want to unwind! You get to be surrounded with other travelers and locals that are learning the similar things as you are, so you get to connect together and create lasting friendships for support.
"Get to meet new friends and rejuvenate together!"
More Activities
Wellness retreats offer a host of facilities that make your stay relaxing and fun! There are beautiful surroundings you can walk around in, pools, spa treatments, as well as activities to forget about the busy and hectic lifestyle back home.
Some wellness retreats offer golfing, lantern making classes, cooking lessons, or even cycling!
How to Prepare For a Short Visit to Vietnam
Before you head on to Vietnam, you have to prepare and plan ahead! This goes beyond booking your wellness retreat dates.
"You still need a visa, but it's very easy to obtain as long as you have the requirements."
You require a tourist visa before visiting Vietnam, as well as a passport valid for at least six months and with a blank visa page for the entry stamp. Fortunately, it's easy to apply online, with different agencies doing it for a minimal fee, or submitting the application form and requirements yourself.
Vietnam also offers visas upon arrival, though I recommend that you get an e-visa to lessen the hassle and time spent in the airport.
Once you've booked your flight and have been accepted for the tourist visa, the next step is to get vaccinated (if you haven't already) and pack your bags.
Your clothes should be appropriate for the weather, depending on when you're heading to Vietnam. But regardless of when you're going, be prepared for the sun, heat, and humidity, packing sunscreen, sun protection, and bug repellant.
Besides this, let your loved ones know where you'll be staying, as well as provide contact details for updates. If you're packed and have all personal documents and necessities prepared, all there's left to do is to wait for the flight and retreat date to come!
Wellness Retreats in Vietnam
Where in Vietnam should you stay in for the ultimate wellness retreat? These are just some areas in the country that offer awesome services and boast beautiful surroundings:
1. Almanity Hoi An Wellness Resort
The Almanity Hoi An Wellness Resort is located in the Hoi An town, known as an oasis of relaxation and healing.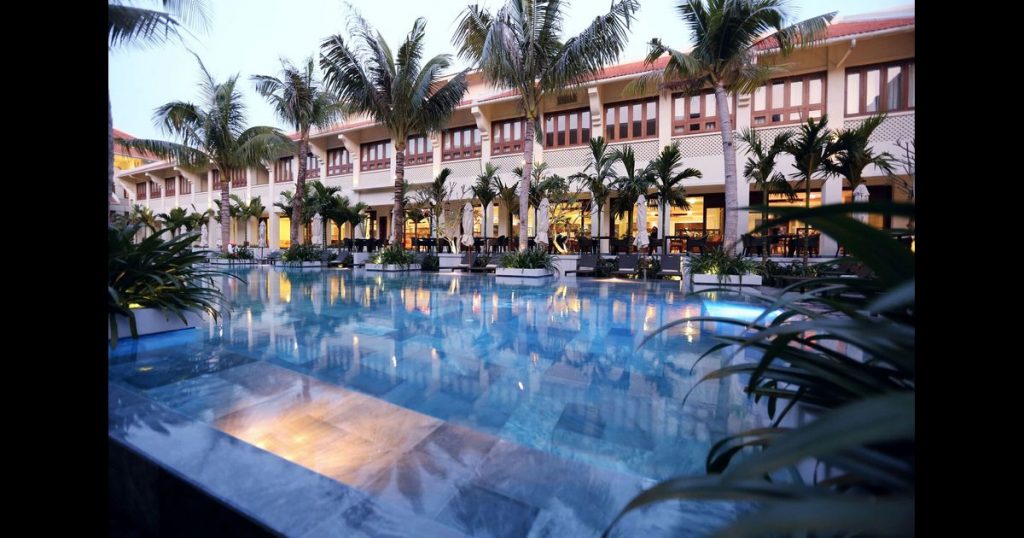 There are 139 rooms with a Japanese garden and Koi pond, as well as a tropical pool for the luxury resort vibe.
Their wellness retreat de-stress package includes:
• A 7-day stay at one of their spacious rooms
• Daily breakfast, two wellness juices, and coconut juice
• Six 90-minute spa treatments
• Six sessions of Hatha yoga
• Lessons on yoga theory, lifestyle, breathing exercises, and Asana postures
There are also other wellness retreat packages that include spa or body treatments, as well as free daily Hatha yoga sessions.
Besides that, there are also other benefits guests can avail of, such as their daily open yoga classes, open sunset Tai-Chi, and unlimited use of their reflexology pool and Himalayan sauna!
Note that the food isn't included, though they have an a-la-carte Wellness menu you can order from for better health.
2. Six Senses Ninh Van Bay Resort
Six Senses is located by the beautiful bay, sandy beach, and surrounded by the views of huge mountains. It's a family-friendly resort with 58 rooms, some of which consisting of personal pool villas!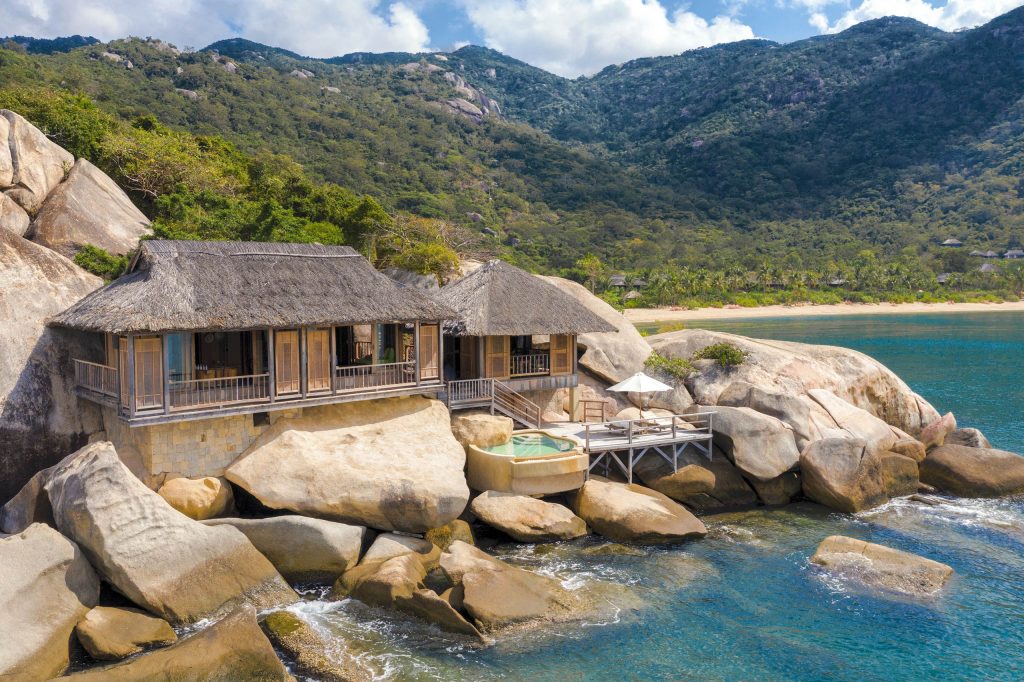 The resort offers different wellness program retreats, which are complements by detox and energy treatments, depending on what you need. All these programs and treatments are personalized and private sessions, which first begins with a wellness screening and consultation. Your wellness expert will customize the program with nutritional guidelines.
Their programs have specific end goals, such as:
• Improved fitness and weight loss
• Better sleep
• Detox and cleansing your body and soul
Most of their yoga programs include sessions for wellness screening, personalized yoga lessons, guided meditation, massages and cleanses, among other luxurious spa treatments, wraps, and facials!
It is a bit pricey, but you get fabulous treatment and executive chefs and professional yogis working with you for the ultimate relaxation getaway!
3. Salinda Resort Pau Quoc Island
Salinds Resort is on the Pau Quoc Island, a five-star resort with 121 luxury suites, rooms, and villas. It combines contemporary styles with local traditions, making it feel homey yet sophisticated!
While they have no specific nutrition programs, they focus on yoga programs and classes, which are free for all in-house guests. They do offer meal variations according to your diet, may it be vegetarian, vegan, gluten-free, or catering to your allergies.
These are what's included in their yoga retreat package:
• Welcome drinks and free-flow sparkling wine
• Daily breakfast buffet
• Free Internet and return airport transfer
• 1-hour daily Hatha yoga class
• Thai spa herbal class
• Free use of fitness center and pool
• Free entrance to themed music events
You can definitely enjoy in style and feel like a king as you rejuvenate and learn more about the wonders of yoga.
Wrapping It Up
Vietnam is an amazing country and ideal for relaxing and restoring your mental and physical health. With a host of wellness resorts that pamper and provide beneficial programs for your mind and body, you'll forget about the daily grind and come home as a new person!
So what are you waiting for? Plan out that trip and get the rejuvenation you deserve in Vietnam!