Many travelers flock to India for spiritual awakening, which is why you can find so many wellness retreats in the country. Not only can you find yourself from the temples and tradition, but wellness retreats in India as well. These are optimum for the soul seeker who wants to relax around the beautiful environment in the country.
But where should you go for the best wellness retreat and why visit India for it? Read on to learn all about the various wellness resorts and centers!
What's Special About Wellness Retreats in India?
Why visit India for your wellness retreat? Wellness tourism is now one of the major roles and reasons why India tourism continues to grow, and for good reason!
Here's why you should take a break from your fast-paced life and take a wellness retreat in this gorgeous country:
Rich Tradition
The country is the birthplace of yoga and Ayurveda, so it's no wonder why the country's home to some of the top luxury wellness retreats and resorts worldwide!
India has rich traditions of ancient practices for both wellness and healing, having the culture and environment for it. As mentioned, it's why many people tour the temples of India as an attempt to find themselves and relax by the beautiful beaches and nature.
More Variety
Because of their practices and culture, they are very popular for wellness retreats and programs. India is home to dozens of luxury resorts that devote to healing and improving their clients' health, from Ayurveda detoxes to rejuvenation programs!
"Get to experience the culture and tradition of India while feeling relaxed and pampered."
You can definitely find the perfect program for you, unique to India and their resorts. Plus, you have the choice of where you want your wellness retreat to be, whether by the greeneries or beaches!
Cost Benefits
One of the major attractions is its value for money and low cost for alternative medicine services. It's now becoming popular for foreign patients as a replacement for treatments and recoveries for different ailments.
Besides this, India is known for its amazing travel experiences in emotional, spiritual, and even intellectual levels. You get to travel to a new country at a low cost and avail wellness retreat packages at affordable rates compared to those in Western countries!
Wellness Activities You Can Do
What can you expect from wellness retreats and resorts? These are some of the wellness activities that are unique to India and that you can do when in the resort:
Yoga
This has been a practice for over 2,500 years in India. Wellness tours and retreats would combine the benefits of yoga, meditation, and Ayurveda to help one escape from the stressors of daily lives, restoring inner balance.
Yoga retreats from wellness resorts help you improve your flexibility, strength, mobility, and overall yoga practice. Besides that, you get to heal emotionally and meet yoga enthusiasts with similar goals.
The yoga programs would combine yoga exercises with a Saatvik diet and Pranayama or meditation exercises for maximum results within shorter periods. You can perform these retreats in three to four days, or even longer if you need or want to!
Meditation
Besides yoga and healthier diets, a wellness retreat would also focus on meditation, which is popular for its many benefits.
"Meditation is a great way to feel centered, which is why it's a part of all wellness retreats."
Meditation improves our health and would focus on your mind, helping you gain a better outlook on life. One of the most ancient meditation techniques in India is the Vipassana Meditation, meaning that you learn to see things the way they really are. Some travelers and locals go for a 10-day silent meditation retreat for wellness as well, which is a popular program in India!
Ayurveda Detox
Also known as the Panchakarma detoxification, this helps in detoxifying and rejuvenating your body. The detox could strengthen the immune system, restore your balance, and improve your overall wellbeing.
It's actually an effective healing therapy in the Ayurveda! You will need to perform this weekend for 21 days (three weeks) and on a seasonal basis for the best results.
The Panchakarma removes excess dosas, correcting your body imbalances and eliminate harmful toxins out of your system through the body's organs.
Rejuvenation Programs
These are programs that help relax your muscles and release fatigue. It also reduces stress and stiffness, with some programs focused on providing relief from different ailments like arthritis or diabetes. These programs are a natural treatment that aids the curing of such diseases.
Take note that while these aren't longterm remedies, regular rejuvenation programs can help ease the pain and symptoms experienced.
How to Prepare For Your Short Visit to India
When preparing for your trip to India, you'll first need to prepare what you need to travel there.
The first step is to determine if you require a travel visa. Tourist visas are required to enter India, so if you don't have one yet, do check for the requirements from your local embassy office. Typically, you will need a passport that's valid for at least six months, passport photos, as well as an application form.
You will also need to be vaccinated for yellow fever, as well as other basic and necessary vaccinations like the flu and hepatitis.
Make sure that you bring the essentials such as your clothes, personal documents, as well as proper finances (it's better to bring a balance of physical cash and your credit card in case of emergencies).
"It may be hotter in India, so prepare for the heat and dress lightly with sweat-wicking clothes!"
In India, you have to bring more essentials that cater to the weather and where you will be. Since the country is relatively warm, prepare sunscreen, bug repellant, sportswear, and swimsuits, as well as other sun protection and walking sandals. These will suit your needs as you stay outdoors in your wellness retreat.
Book your flight about a day or two before your scheduled wellness retreat and let your loved ones know where you will be and how you can be contacted. Now, you're ready to enjoy your vacation!
Top Three Wellness Retreats in India
Where should you go to India for the ultimate wellness retreat? These are the three awesome wellness resorts and centers that can give you ultimate services and experiences:
1. Ananda, in the Himalayas, Uttarakhand
Ananda is the award-winning luxury spa resort located in Northern India's Himalayan foothills! It's situated on Maharaja's Palace Estate, a 100-acre land where you will be surrounded by the spectacular Sal forests, overlooking Rishikesh and Ganges river valley.
Just the view alone feels so graceful and spiritual, where you can feel the true value of wellness. Ananda is known for its luxury wellness retreats in the country, as it integrates traditional Ayurveda, Vedanta, and Yoga with international experiences and programs. They also include healthy and organic cuisine, intending to harmonize energy, and restore overall balance in mind and body.
Besides the therapeutic programs, their spa many also includes detoxing, distressing, and anti-aging treatments. The resort also offers treatments and chakra balancing to treat specific ailments. With many professional nutritionists, therapists, fitness experts, and physicians, you will feel pampered the way your mind and body needs to.
2. Carnoustie Ayurveda and Wellness Resort, Kerala
This resort is located on the shores of the Arabian Sea, about 12 miles away from Alappuzha backwaters. You can dine Carnoustie Ayurveda and Wellness Resort on the Marari Beach, having 40 luxury villas and a wide array of facilities.
As the name suggests, the resort offers Ayurvedic and spa treatments, all customized per guests according to their needs and requirements. This is to enhance their guests' inner selves the way they need to without generalizing their program. Besides treatment, guests will have an Ayurvedic diet for quicker recovery and to reap maximum benefits.
Expect holistic healing processes to renew your mind, body, and soul. There are even other programs that can rejuvenate your body, enhance beauty, purify the body, and even slim it! That way, you have different and custom-made treatments according to your body needs and end goal.
3. Hilton Shillim, Maharashtra
The Hilton Shillim Retreat Spa is one of the most popular and best resorts in India for wellness retreats. It was awarded as the "Best Luxury Emerging Spa" AND "Best Luxury Wellness Spa!"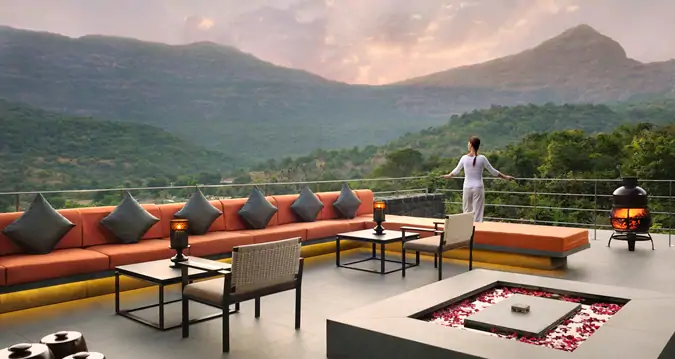 The wellness retreat resort is located in the Western Ghats, with views that overlook misty mountains and green fields. You receive professional and luxury treatments and therapies that follow the healing traditions of Ayurveda. They also offer other spa and pampering treatments to feel the benefits of rejuvenation, detoxing, anti-aging, holistic wellness, and beauty enhancement.
Expect therapies that include yoga, panic healing, chakra cleansing, acupressure, meditation, hydrotherapy, pilates, and more!
What's great is that you can meet many like-minded foreign travelers who want to live a wellness life and take a break from the stress back home.
"Have the time of your life without the stress and worries, you'll be treated like royalty in wellness retreats."
Wrapping It Up
Need a soul-searching trip and detox your mind and body? Then India's the country for you, surrounded by amazing attractions and wellness retreats you can join. You can get the much-needed break and the vacation focused on your health and wellness even beyond your travels.
So you want a wellness retreat, check out these centers in India, and prepare for the trip of your life now!