Today, you can find more and more remote workers, especially after the global pandemic has companies shifting to a work-from-home setup. Because of that, companies are now looking into flexible work arrangements and changes in office space, as they continue allowing their employees to either go back to the office or at home.
That means people have the freedom to work anywhere they want, may it be in their home, coworking space, or even in a foreign country. And where do digital nomads visit nowadays? In Asia, particularly Southeast Asia.
Asia is now one of the more popular continents where you can find many digital nomads visiting. Not only does Southeast Asia offer such exotic attractions, beaches, and exciting histories. A lot of these countries have a more affordable cost of living, making it even more advantageous for digital nomads to work without going over budget.
You can find numerous co-working spaces in many great locations in southeast Asia! It's the perfect spot to get projects done while exploring the beauty of their dream destination. Local entrepreneurs often utilize coworking spaces for their team especially in big cities, so there are plenty of opportunities for digital nomads to network and meet locals.
So, where exactly should you go, as a digital nomad in Asia? We help you out as we talk about all the best countries and cities to conquer without sacrificing your work productivity.
The Best Destinations for the Digital Nomad in Asia
Today, remote workers and digital nomads merely need a fast WiFi connection to work. Meaning they can do all of their work in hotel rooms, cafes, or coworking spaces worldwide. And because of Southeast Asia's cheap lifestyle, breathtaking landscape, and excellent accommodation options, many of these countries have everything a digital nomad needs and desires.
Understandably, it's a bit confusing as to where exactly you should begin your digital nomad journey! That said, here are five destinations that are a must-visit!
Digital Nomad in Thailand
Thailand is one of the most popular country in Asia among digital nomads.
Tourist Friendly
You've got stunning beaches tons of tourist attractions, and it's very convenient for foreign travelers as the country has matured tourism. Since it's an established country with digital nomads, tourists, ex-pats, you'll have the balance of traditional culture and city life, along with safety and convenience.
You'll get fast Internet, malls, local markets, fast food joints, delicious restaurants, 24/7 convenience stores, luxury hotels, beach resorts, hostels, coworking spaces, and everything else!
Great Weather, Amazing Nature
Thailand is home to thousands of new and experienced digital nomads, many of them going back because the country has so much to offer. That's because glamorous beaches will surround you with clear waters, or you can take in the views from the mountaintops with all that clean, fresh air. Like other countries in Southeast Asia, it's a tropical location, so there's no dreading winter here.
Low Cost of Living
Besides that, Thailand has one of the lowest living costs, as long as you know where to go and how to budget. For example, a bowl of Pad Thai would cost about $1.30 (40 THB), while a two-hour train ride is $3.30 (100 THB)! You can expect to spend around $800 to $1,500 monthly, which already includes your accommodation, food, transportation, coworking space allowance, and other travel expenses.
Where to Go
Among the different cities in Thailand, Chiang Mai is known as one of the best digital nomad hotspots worldwide, and probably the best place to start your journey as a digital nomad in Thailand.
We recommend this city because of its numerous coworking spaces and digital nomad communities. You can even find many digital nomads here teaching or taking courses on how to earn as a digital nomad. While it's smaller than Bangkok, Chiang Mai is affordable and with various accommodation options, bazaars, restaurants, and a vibrant nightlife.
Digital Nomad in the Philippines
Stunning Islands
The Philippines is an archipelago with approximately 7,640 islands, with most of these islands featuring stellar, award-winning beaches.
Friendly Locals
Travelers also love the Philippines because of the friendly locals, many of whom can speak fluent English! You can make friends in the country who can show you around and share tips on where to go or what to do.
Low Cost of Living
The Philippines would generally have a low cost of living but isn't the most affordable compared to other southeast Asian countries. That said, it isn't as expensive as Western destinations as well, with dishes costing a few bucks!
However…
Granted, the Internet infrastructure isn't perfect, and you'll experience a slow connection, depending on the area. However, it's starting to improve, and you can find places with fast WiFi!
Where to Go
A digital nomad in the Philippines should visit Metro Manila, Cebu, Palawan, and Boracay!
Metro Manila is the country's capital region with the hustle and bustle of city life all around you. You get to do lots of things in the city, from the biggest shopping mall, 17th-century churches, amusement parks, museums, great restaurants, luxury hotels, parks, and coworking spaces. No one gets bored in Metro Manila because there will always be something to do and wild nightlife to enjoy.
Cebu is also another fantastic destination combining Metro Manila's urban city life with the more rural beach bum life. It's got an ex-pat scene, so you'll feel at home as a digital nomad, especially with the abundance of coworking spaces.
Palawan and Boracay are two of the most popular beach destinations in the country, with luxury resorts ready to accommodate you and your needs as a digital nomad and tourist. From fast WiFi to white sand, glamorous amenities to crystal clear waters, feel relaxed as you work with the fantastic beach views.
Digital Nomad in Bali, Indonesia
Bali is a well-known destination among digital nomads, especially in Canggu and Ubud! These two major cities have been attracting digital nomads from all around the world for years. They have an established community of freelancers, entrepreneurs, and digital nomads alike.
There are excellent reasons why Bali is so loved by digital nomads, such as:
The Best Beaches
When you think of Bali, the first thing you'll think of is the amazing beaches. Plus, travelers would also rave about the lush nature the destination offers!
You can find world-class beaches in Bali with extraordinary surf opportunities, while some beaches have black sand! You can have fun with the fun water activities like scuba diving or snorkeling after working since some coworking spaces are just by the beach.
Besides that, you can also immerse yourself in all the nature surrounding Bali, from the serene green rice terraces, colossal jungle, or even see things from the top of volcanoes!
Lively Culture
People sometimes forget Bali is a place in Indonesia because it feels like its own country! It's got the unique and colorful culture that everyone wants to learn about and experience, from the beautiful architecture to colorful clothes. You can also visit their museums and tourist attractions to immerse yourself in Bali's history.
Furthermore, the locals are very cheerful and lively, which you can see stems from their culture. And with the art of mindfulness and yoga surrounding Bali, it's worth visiting to retreat from the ordinarily busy life.
Low Cost of Living
One of the best reasons Bali is such a popular destination is the low cost of living. You can find food for as low as $1 per dish, accommodation in shared dorm rooms for as little as $5 nightly, and even private villas for long-term stays for less than $550 a month!
Where to Go
If you're planning to stay as digital nomad in Bali, we recommend heading to Canggu if you want gorgeous beaches near delicious bars and restaurants. However, if you're looking for something more calming, then you'll appreciate Ubud, which is a spiritual wellness center with numerous meditation retreat facilities, yoga studios, and restaurants serving vegan food!
Digital Nomad in Japan
Japan, known for its rich cultural heritage and technological prowess, is quickly becoming a favored destination for digital nomads. Its unique blend of tradition and modernity offers a captivating experience that is hard to resist.
From the bustling metropolis of Tokyo to the serene landscapes of rural areas, Japan presents a diverse array of experiences that cater to the adventurous spirit of digital nomads.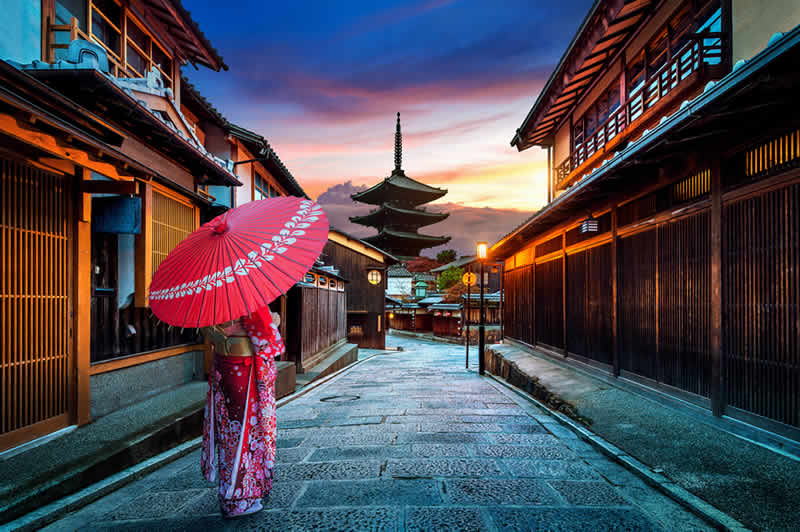 Super Modern Infrastructure
One of the key attractions for digital nomads is Japan's super-modern infrastructure. The country is renowned for its efficient public transportation system, which is punctual to the minute. Whether you're navigating the sprawling cityscape of Tokyo or exploring the outskirts of smaller towns, the public transportation network is reliable and comprehensive. Moreover, Japan boasts high-speed internet connectivity, a crucial requirement for digital nomads. The combination of these factors ensures that digital nomads can work and travel with ease and efficiency in Japan.
Affordability
Despite being the third-largest economy in the world, Japan is surprisingly affordable, especially when compared to many Western countries. This is a significant shift from the mid-80s when Japan was considered the most expensive country globally. Today, whether you're dining at a local eatery or renting an apartment, the cost of living is relatively reasonable. This affordability makes Japan an attractive destination for digital nomads looking to maximize their experiences without breaking the bank.
Where to Go
Japan's geographical diversity offers a range of locations for digital nomads to explore, each with its unique charm and appeal. Many digital nomads in Japan start their journey in Tokyo, the capital city, is a vibrant hub of technology, fashion, and cuisine. It offers a fast-paced lifestyle with an endless array of attractions to explore during your downtime.
Osaka, on the other hand, provides a different vibe. Known for its friendly locals and delectable street food, it also serves as a convenient base to explore nearby cultural treasures like Kyoto and Nara. These cities are steeped in history and tradition, offering a glimpse into Japan's rich cultural heritage.
Fukuoka, located in the southern part of the country, is another excellent choice for digital nomads. Known for its warm climate and laid-back atmosphere, it offers a balance of city life and natural beauty. The city is also home to a growing number of co-working spaces and a vibrant expat community.
In conclusion, Japan's unique blend of culture, modern infrastructure, affordability, and diverse locations make it a compelling destination for digital nomads. Whether you're a seasoned digital nomad or just starting your journey, Japan offers an enriching experience that goes beyond work.
Digital Nomad in Vietnam
Vietnam is another exotic destination for tourists and digital nomads alike. It's best known for its low cost of living and vast history, which you can learn from as you embark on a journey to their temples and attractions.
Here are just some reasons why Vietnam should be one of your following destinations as a digital nomad.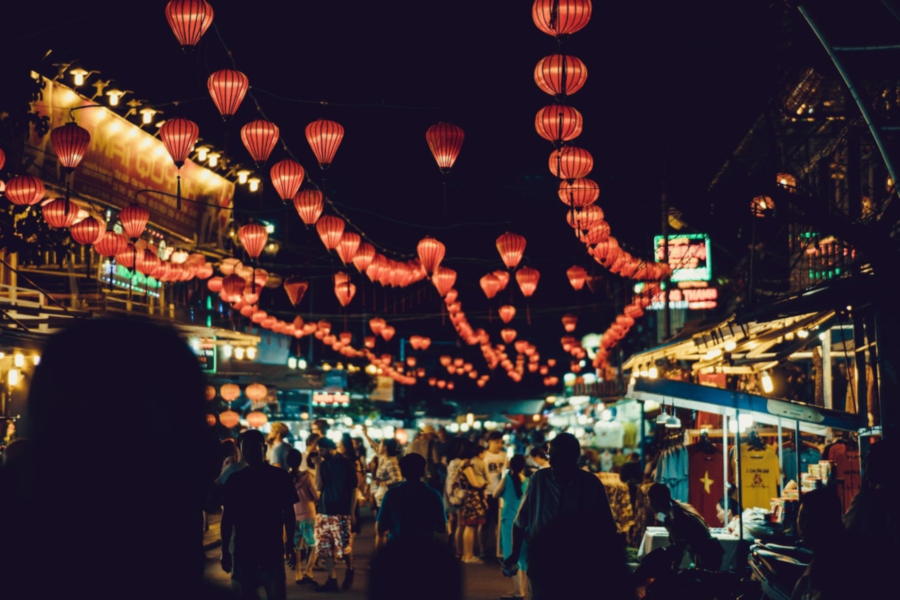 Low Cost of Living
One of the reasons why tourists and digital nomads head to Vietnam is the low cost of living, matched with the beautiful attractions and culture.
One bowl of pho will only set you back around $2, while a local beer costs less than a dollar. You can also find internal flights for as low as $50, and accommodation in a spacious and nice condominium in the city costs about $800 a month.
The Food
Besides all the lovely places to go and things to do, Vietnamese cuisine is a must-try. You've got mouthwatering and colorful dishes like banh mi and pho because they are made with varied spices and vegetables. Plus, Vietnamese cuisine is one of the healthiest across Asia.
Where to Go
For the digital nomad in Vietnam, Da Nang is one of the suitable locations you can head to. This seaside city is quickly becoming very popular among digital nomads because of the combination of urban city life and natural wonders, along with its rich history, culture, and tradition.
Not to forget – you can find many coworking spaces and coliving accommodation here, too! Besides that, you can head to Ho Chi Minh, Hanoi, and Hoi An, which are other unique destinations in the country known for their beaches, city life, and history.
Digital Nomad in Sri Lanka
Sri Lanka is a lush island with different cultures differing from one area to another. It's very popular and even ranked as the 2nd best country for digital nomads in 2021 by Club Med and continues to become a sought-after location for digital nomads.
Surfer's Paradise
Sri Lanka is extremely popular among surfers. It's the ultimate surfing destination, with people riding the waves from November to April. There are numerous surf camps and beaches where you can experience breaks suitable for beginners to experts. People love Sri Lanka as it has a laidback atmosphere, matching the surfer and beach vibe.
Besides the surfing, you'll be surrounded by gorgeous nature, with mountains, rainforests, and habitats if you are adventurous. It's also an emerging wellness center, perfect for digital nomads who want to relax during their days off, whether to do yoga, enjoy the spa, or join wellness programs.
Low Cost of Living
Furthermore, the area has a low cost of living and delicious dishes from the local cuisine you've got to try! You can spend as low as $700 to $1,000 a month, and you've already got an excellent place to stay, yummy food, transportation fees, and coworking spaces.
However…
With all that said, you can see why it's becoming a popular destination for digital nomads. However, there is one caveat: The Internet isn't perfect, and you may experience slow connections, but it continues to improve.
Where to Go
If you plan to become a digital nomad in Sri Lanka, Colombo is the most convenient in terms of facilities. It's the commercial capital of Sri Lanka and the country's financial district, where you get the mix of traditional and modern with various cultures.
Mirissa and Weligama, which are small and lively beach towns, are perfect for surfing and whale watching. People also love the fun nightlife activities and the growing number of coliving spaces in the area.
Digital Nomad Asia destinations
If you're a digital nomad or plan to be one, then this is your sign to visit any of the popular destinations in Southeast Asia while you work! Not only do you get to work in open and vibrant spaces with fast WiFi, but you'll be near so many beaches, tourist attractions, nature reserves, and good restaurants to enjoy after your shift. Take a look at coworking spaces in Asia, where you can work comfortably without worrying about internet connection.
Hopefully, this article gave you an introduction for life as a digital nomad in Asia, and where to go to get the perfect balance of work and fun. Don't wait any longer, and begin planning your future travels now!