Cambodia is known as the "Kingdom of Wonder" because it holds some of the world's most majestic ruins and temples! But it isn't just known as being the land of culture and religion stoppage. It's also THE destination for beach trips and luxury vacations!
Yes, there are many fantastic luxury resorts in Cambodia you can visit for a memorable getaway. But why and where in Cambodia should you check out? Read on to find out!
What Is Special About Luxury Resorts In Cambodia?
Cambodia is magical and offers everything you need, even more, when in any of their luxury resorts! But what makes it so special? Here are just some of the reasons you should head to a luxury resort in Cambodia:
1. Cultural Heritage
The culture and history of Cambodia alone is what makes the visit worth it! Luxury resorts offer excursions and personal butlers can organize outings for you to get a taste of Cambodia.
"Cambodia may be a small country but holds such a colorful culture and history."
You get to learn all about the amazing past of the Khmer Empire as you visit Siem Reap or the history from the Tuol Sleng Genocide Museum. It may be a small country, but its history is vast, and each place is a new (and fun) lesson!
Besides this, you get to have a taste of their culture and discover traditions. It teaches you more of how locals act and broaden your perspective, as all travels do.
2. Natural Beauty
Cambodia is near Thailand, which is known for its beautiful beaches. But not a lot of tourists have been to Cambodia's untouched beaches, which are less-traveled and offer white sands and pristine clear waters.
National Parks await you in Cambodia, filled with wildlife and untouched nature. Visit Kirirom National Park where you can hike with rangers along footpaths, go bird watching, or even ride horses as you breathe in the greeneries.
Or you can go to Bokor National Park, filled with jungles, mountain streams, waterfalls, and even home to rare animals!
3. Kind People
The locals are what will make your trip even more memorable! Despite their war histories, Cambodians have stayed kind and hospitable. They are always smiling and helpful, willing to take you anywhere, and tour you around with pride.
"Make new friends and feel at home with all the hospitable locals ready to help!"
In luxury resorts, not only are the staff welcoming but well-trained to serve your every need. No matter what you desire, they will make sure to come through and give you the best travel experience you deserve.
In Cambodia, especially in luxury resorts, you won't feel out of place. Feel at home and make new friends as you talk with the staff and explore with locals.
4. Enhance Your Spirituality
One reason why we visit new countries is to find ourselves.
Luxury resorts have onsite spa facilities and offer yoga and tai chi classes to find your zen. Staff can also organize excursions to visit majestic temples to help find your spirituality, explore different religions, and broaden your perspective as you immerse in old teachings.
The country and its resorts will give you the spiritual retreat you want, balancing your mind, body, and soul. Once you go back home, you're a whole new person filled with lessons and a more positive perspective!
Luxury Resorts Activities In Cambodia
What can you do once you settle in one of Cambodia's best luxury resort? These are some of the facilities and services you can expect from the country's finest accommodations:
1. Swim In Your Private Pool
Your villa doesn't only look plush and comfortable, it comes with so many added perks, like your own private pool! Take a dip and swim without having to leave your villa, with your privacy in mind and no rules.
Want to sip champagne or enjoy breakfast by the pool? You got it.
Do you want to take a breather and cool off after a tiring day of activities? Your private pool is right there!
Besides that, your villa also comes with the softest beds and natural ambiance to make you feel at ease.
"Get the VIP treatment and feel like a star as you receive only the best service!"
2. Eat the Best Local Food
Khmer dishes are both humble and comforting. Luxury resorts take it up a notch as you dine in world-renowned restaurants and enjoy infamous chefs whip up authentic dishes from the country. All dishes all be made from the freshest ingredients, catering to your diet and tastebuds!
Explore with your tastebuds as you eat famous Khmer dishes like fish amok or Kampot Pepper, commonly served with a warm bowl of rice. Known for its colorful looks thanks to all the fresh herbs and spices, flavors will pop in your mouth as you experience dishes you've never had in your life!
3. Walk by the Beach
Most luxury resorts in Cambodia are located on private islands and untouched beaches. Simply head on out of your villa and you can already see the beachfront and walk by the shoreline!
These are some of the most relaxing activities you can do in a luxury beach resort. There's no worry about being surrounded by a ton of tourists because you'll have miles of sand and water all to yourself without the crowds.
You can even perform a ton of activities, from scuba diving to beach volleyball, have fun under the sun without leaving the resort!
4. Personal Butlers Waiting On You
What's great about luxury resorts is that you don't only receive great service, but spectacular VIP treatment, with personal butlers working to serve your wants and needs.
Whether you want to organize an excursion or surprise for your lover, need the finest champagne or breakfast in bed, you get whatever you desire without lifting a finger!
"Feel the luxury the moment you arrive in Cambodia with airport transfer waiting for you."
Besides this, the staff can arrange airport transfers using their luxury cars to transport you to and from the airport. No more taking cabs, you'll feel like a celebrity as you're driven in comfortable vehicles and waited on from the moment you arrive until your departure.
Luxury Resorts Recommendations In Cambodia
Which luxury resort should you go to when in Cambodia? Check out some of these recommendations for your next trip!
1. Belmond La Residence d'Angkor
La Residence d'Angkor is a member of the Orient-Express Hotels, a luxury boutique-themed hotel with 55 rooms and suites. As you enter the resort, you're surrounded by majestic trees and greeneries, with the structure built in traditional Khmer style and by the river of Siem Reap's center.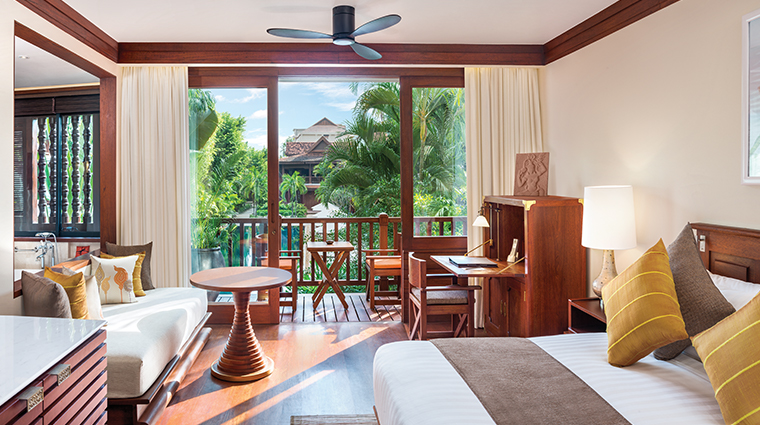 You get to explore the majestic temples of Angkor Wat and many of the World Heritage surroundings in Cambodia, which is a mere ten minutes away from the hotel!
Besides this, the luxury resort boasts of the relaxing atmosphere, from the Baray-inspired swimming pool down to their lush spa centers and grand eco-friendly rooms.
If you're more of a nature lover who wants to be surrounded by trees and green gardens, then you will love Belmond La Residence d'Angkor.
2. Song Saa Private Island
Song Saa is located on a private island, the untouched Koh Rong Archipelago. Your view will always be the clear and dazzling waters and seascape, as well as virgin rainforests! Surround yourself by greeneries from rainforests or tropical reefs by glistening white beaches.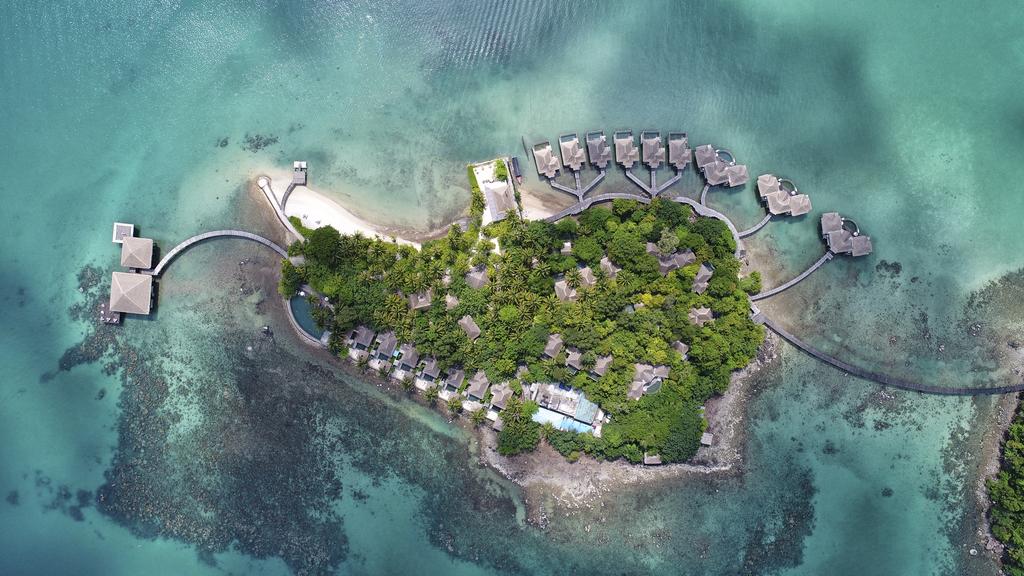 Besides the views and adventure, you can even find rare animals around the untouched island, such as hornbills! It feels like you're out of this world, without any intrusions or the bustling city life, only natural beauty and luxury services.
From spacious private villas with their pool down to excellent spa options to cleanse your body and soul, Song Saa is the ultimate escape from what's normal. It's perfect for travelers looking for a private tropical experience away from the world while still receiving world-class treatments.
3. Shinta Mani Wild
Shinta Mani Wild takes on a whole new concept in the luxury resort industry! It's the ultimate camp experience with a twist, with the resort set in an unprotected wildlife corridor, connecting Kirirom National Park and Bokor National Park.
There are 15 custom-designed tests with over a kilometer of swift rivers and waterfalls, giving you the once-in-a-lifetime experience unlike anything in Asia.
When you check in Shinta Mani Wild, you get to explore Cambodia's waterways (the last of the wild estuarine ecosystem), or even accompany rangers and researchers while they study the jungles and its inhabitants. Get to explore on their luxury expedition boats, then go back home to your tent and relax in plush beds as you enjoy the starry night skies.
If you're an adventure-seeker who wants something more than the typical beach resort, this is THE destination for you!
Wrapping It Up
Cambodia may be a small country, but it offers everything, including the touch of luxury from many of their world-class resorts. From the history and culture down to the amazing nature views, there is an abundance of reasons why you should visit the area!
And when you do, check out their luxury resorts to get the ultimate break you need. Get to planning and have a fun trip!