You'll be surprised by how beautiful Vietnam beaches are, from the white sand down to the pristine clear shoreline. That's why everyone heads to luxury resorts in Vietnam, taking your travel experience to a whole new level!
So, why head on to Vietnam to pursue what possibly might be the best vacation of your life? Read on to learn more about luxury resorts in Vietnam!
What Is Special About Luxury Resorts In Vietnam?
What makes traveling to Vietnam worth it, beyond luxury resorts? These are what makes the country and its resorts so special compared to others:
1. Vietnam's Vast History and Culture
The Vietnamese nation has been thriving for over a thousand years now, and it's not going away! These past centuries have given Vietnam a rich culture, manifesting in many ways.
You can see how diverse the country is based on the areas you visit, from Hanoi's beautiful temples in Hoan Kiem Lake, down to the simple yet grand Tan Ky House in Hoi An!
No matter where you go, you'll always learn at least one new thing about Vietnam's history and culture. You'll never get bored as you take tours and adventures to historical attractions and nature-filled areas.
2. The Delicious Food
Vietnamese are absolute foodies, and like their culture, each area has a different "twist." For instance, their infamous local dish, Pho, has different preparations in Saigon compared to Hanoi!
Influenced by the Chinese and French, you get a fusion you can't find anywhere else, and since it's made of fresh ingredients, there's no worry about your health and going overboard on calories. Try their fresh spring rolls or banh mi, which you can find anywhere!
The best part for adults: Each major city in Vietnam has its brand of beer for you to taste test!
3. Adventure Activities Galore!
You'll be surprised that for a smaller country, you'll never run out of things to do in Vietnam! As mentioned, luxury resort staff can organize trips and activities for you to do around the country.
So if you want to go sledding down Vietnam's Mui Ne dunes or ride around on Russian motorcycles, you can find an activity that suits you best. There are also many adventure activities you can do around the luxury resort, such as kayaking or climbing up natural karst walls. The choice is yours and you can get the thrill you've been seeking!
4. Perfect For the Romantics
Looking for the ultimate destination made for lovers? Vietnam can be quite a romantic country, especially when you've checked in a luxury resort made for honeymoons and the like.
"Vietnam is a lover's paradise!"
You can head on out to the Hon Kiem Lake in Hanoi or Ha Long Bay for beautiful photos, or Hoi An Old Town to watch the full moon and old-school lanterns for a magical walk.
Then once you head on back to your resort, you can surprise our lover with a candlelit dinner by the beach or any of their majestic in-house restaurants!
Luxury Resort Activities In Vietnam
Why should you head on to a luxury resort instead of go for the "typical" accommodation when visiting Vietnam? These are some added perks and unique activities you can do when checked in one:
1. Dip Your Feet In Your Private Pool
When you enter your private room, villa, or suite, it would usually have its private pool? You can take a dip in your pool and have all the privacy you want with your loved ones!
"Have your privacy and security and enjoy your amenities."
But you shouldn't miss out on their amazing infinity or grand pools exclusive for guests! They hold quite an amazing view of its surroundings, may it be beaches, mountains, or the city skyline.
Either way, you get to have some fun under the sun, having the choice to dip your feet in your pool for relaxation or sip champagne as you make new friends in their pool facilities.
2. Amazing Spa Treatments to Rejuvenate
Vietnam is one of the countries known to help travelers find their peace and spirituality. When you're in a luxury resort, you'll be able to find peace, as you are surrounded by lush greens and find white sand without the crowds!
"Feel at ease and release all tension as you receive the best massage of your life!"
Besides this, you can rejuvenate thanks to the amazing and well-trained staff who perform massages, mani-pedis, or even coach yoga classes!
Luxury resorts offer the complete spa treatment to keep you pampered, removing any knots and tension your body has. Plus, they usually have yoga and tai chi activities you can follow to let your mind flow and release bad spirits away.
3. Private Classes to Learn Anything!
Do you want to learn new things while in a new country? Luxury resorts can help you out with that, as they provide various classes (depending on the resort).
Some resorts offer yoga and tai chi classes, as mentioned above. Others have Muay Thai and fitness classes to burn calories, or cooking lessons to learn how to whip up authentic Vietnamese dishes!
Children and adults alike can take most of the classes luxury resorts offer, so you don't only get a much-needed break, but learn a lot as you rest, too!
4. Set Excursions and Receive Anything You Need
Want to explore the majestic temples of Vietnam? Hike a mountain or go on easy trails? Go scuba diving or ride their speedboats as you go island hopping?
A luxury resort in Vietnam can serve your every needs to make your vacation a special one. Personal butlers and staff will organize excursions according to where you want to go and what adventures you'd like to take!
It beats planning it all on your own! You now have someone to do all the planning for you, including comfortable transportation and a tour guide to teach you all about Vietnam.
Luxury Resorts In Vietnam to Consider
What makes luxury resorts in Vietnam stand out? To give you a taste of what to expect, these are just three of the many amazing luxury resorts the country boasts of:
1. Intercontinental Danang Sun Peninsula Resort
This is one of the most popular luxury five-star beach resorts located in Son Tra Peninsula Nature Reserve. Overlooking a private bay and near UNESCO World Heritage Sites, you can expect to immerse yourself into Vietnamese culture and visit the beauties of the country.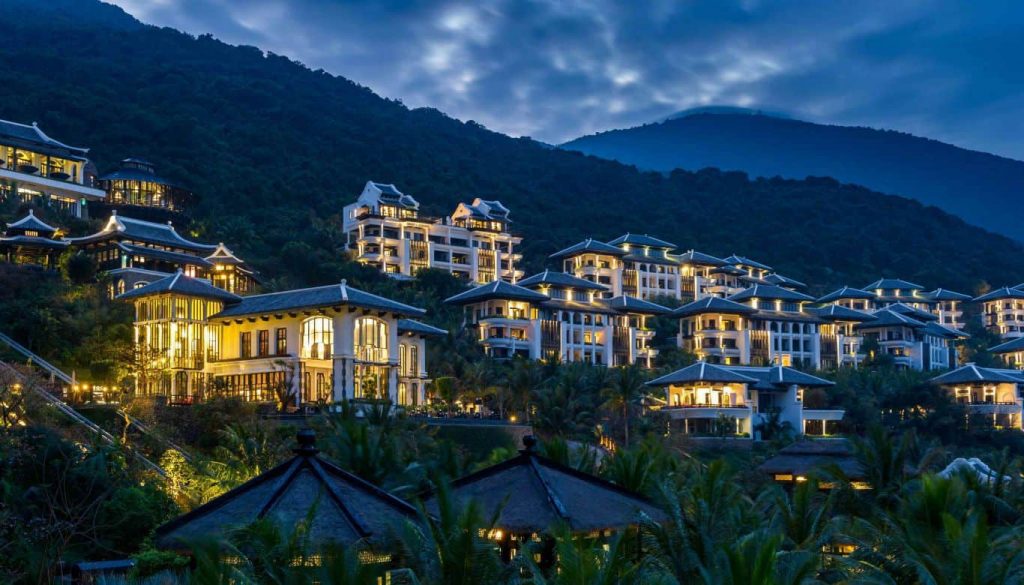 When you enter the resort, you are welcomed with structures inspired by reimagined Vietnamese designs. You will feel at ease as you enter a magical retreat with four levels, which are heaven, sky, earth, and sea!
You can enjoy the culinary artistry from their in-house restaurant, La Maison 1888, with dishes created by world-acclaimed chef Pierre Gagnaire. You can soothe your mind and body in their HARNN Heritage Spa, or relax by the resort's private beach.
2. Banyan Tree Lang Co
This is in Central Vietnam, the ultra-deluxe beachfront and all-pool villa resort that offers the rugged landscape views. It's near one of the UNESCO World Heritage Sites so you can get a touch of culture.
Besides the breathtaking views like no other, Banyan Tree Lang Co also offers a wide range of activities. You can go golfing in their 18-hole got the course, swim in their beautiful pool, or visit the Banyan Tree Spa for quiet sanctuary.
As for dining, they have a total of eight restaurants so you'll never run out of options on where you want to eat. All their dishes are made with fresh and local ingredients with intricate detail and popping flavors!
Whether you're going with your family or lover, want an adventure or quiet vacation, Banyan Tree Lang Co has it for you.
3. Six Senses Con Dao
Six Senses Con Dao follows the philosophy of building their resorts in remote yet accessible locations surrounded by natural beauty. The luxury resort is the only five-star resort in these archipelago islands, surrounding their private beach and views of the Lo Voi Mountains.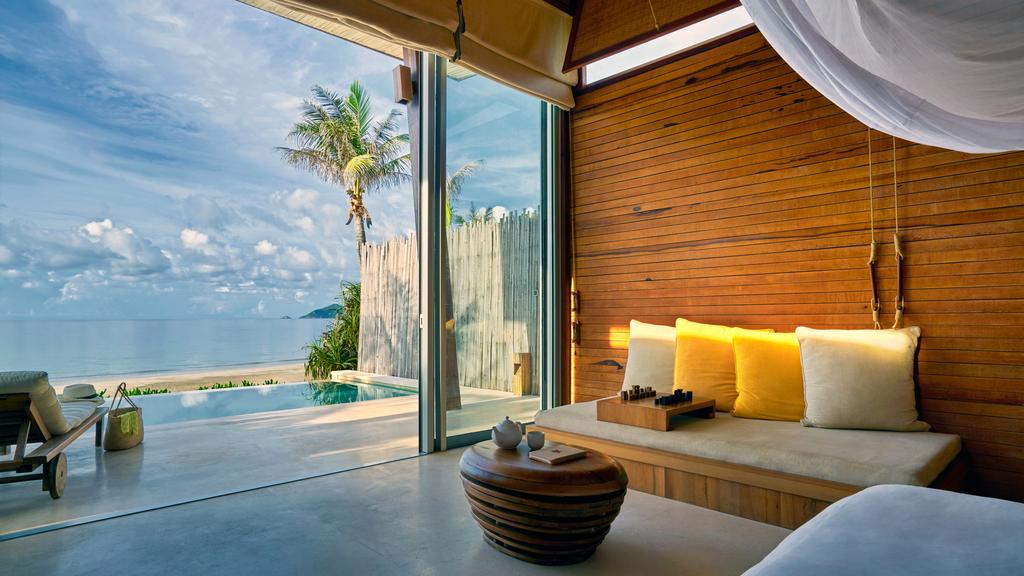 Six Senses Con Dao is a private and all-pool villa resort with a contemporary design with a touch of culture, reflecting the look of traditional fishing villages.
It offers the world-class spa center and dining options, ensuring guests that they are well-pampered with a wide selection of spa treatments and dishes.
You get to meet locals and explore the islands' cultural heritages, take a dip in pristine waters to see rays, turtles, and tropical fish, and many more! You get the tropical island life when in Six Senses Con Dao, and nothing less than the peaceful and luxurious life you expect.
Wrapping It Up
There are many reasons to explore Vietnam, and their luxury resorts are one of them! Not only can you get the adventure of a lifetime, but the VIP treatment as well, from the finest dishes down to picturesque surroundings.
So what are you waiting for? If you're itching for a vacation anytime soon, check out any of these luxury resorts in Vietnam and start planning!