While Cambodia is a small country, it offers everything a traveler will want. From the incredible culture and history down to beautiful nature and delicious food, it's a must-visit country.
But where should you go and what are the basics to know about when preparing a trip to Cambodia? Read on to find out!
Main Attractions in Cambodia for First-Time Travelers
What does Cambodia have to offer? Here are just some of its main attractions:
1. Learn About the Khmer Empire
Cambodia is home fo the Khmer Empire, so you're able to experience its magnificent past when in Siem Reap and the Angkor Temples. You can also learn a lot about their recent history by visiting the Toul Sleng Genocide Museum in Phnom Penh and more attractions.
2. Bask In Its Natural Beauty
Beyond the huge cities, nature reigns in the country! You can relax on a private island, party in beaches, or hike in peace, traversing through waterfalls and rainforests.
Head to Koh Long for its island nightlife or Koh Rong Salem for peace and relaxation. Koh Thmei is for nature watching, while Koh Totang offers total disconnection from the world!
3. Lower Costs
Cambodia has a fairly lower cost of living compared to other Western countries. Because of that, accommodation and daily allowance won't be a problem, because you can buy a lot even when on a budget. Plus, they also use dollars so there's no worry about exchanging currencies.
4. Be With Friendly Locals
One of the best things about Cambodia is its people! They are one of the friendliest locals who will always try their best to help you any way they can. Don't be surprised if some locals invite you to their home or tour you around, sharing travel hacks and what they know about their home.
"Everyone will always welcome you with a smile!"
Main Cities in Cambodia and Its Specialties
Wondering where to start traveling to when in Cambodia? Look into their main cities:
1. Phnom Penh
This is Cambodia's capital city, which has a mix of vibrance and excitement with history and peace.
"Feel at home and explore the wonders of Cambodia starting with the capital city."
You can find The Killing Fields nearby to learn about the country's hardships, yet when you walk around the streets of Phnom Penh, there will always be beautiful smiles from locals. Plus, there are amazing local markets and temples to enjoy.
2. Siem Reap
Siem Reap is a fun and energetic city, popular for its Angkor temples. Just take a tuk-tuk ride outside the city center and you'll feel like it comes from an adventure book!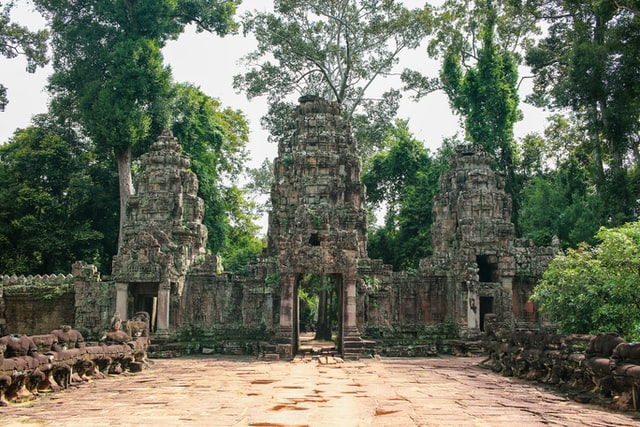 Besides this, Siem Reap is great for its vibrant nightlife, where you can have an amazing local dinner and dance the night away with friends in their many clubs.
3. Sihanoukville
For those who want something more secluded and relaxing, Sihanoukville is the country's seaside resort city. They have a fishing port for those who want to take a serene walk along the city's coastline.
While there are many resorts in the city, it isn't as famous in terms of mass tourism, which is what makes it a must-visit!
Main Regions and Islands of Cambodia
The Kingdom of Cambodia is surrounded by other nearby Southeast Asian countries such as Vietnam, Laos, and Thailand. It's divided into various regions, has its own uniqueness.
Cardamom and Elephant Mountains
This is located in the western mountain ranges, home to:
• Battambang
• Kampot
• Koh Kong
• Pursat
• Sisophon
• Bokor
• Kep
• Sihanoukville
"Nature lovers will appreciate this region for its vast greenery and seas."
You won't only find beautiful mountain views here, but gulf coast beaches and offshore islands! This area is best suited for beach lovers who want some fun under the sun.
Northwestern Cambodia
Northwestern Cambodia is one of the most-visited regions. It consists of Angkor, Siem Reap, Koh Ker, Poipet, Tonle Sap Lake, and Preah Vihear. In fact, most people go to Angkor Archaeological Park to explore and be one with nature! Huge lakes and scenic mountain views await you when here.
Mekong Lowlands and Central Plains
This region consists of the famous Phnom Penh, Kampong Cham, Kompong Thom, and Krek. It's home to the capital city and central flatlands, so you are filled with nature but still having the balance of city life.
This place is best for the traveler who likes nature but also prefers the fun nightlife and urban lifestyle.
Eastern Cambodia
Eastern Cambodia consists of Banning, Kratie, Sen Monorom, and Stung Treng. In this region, you can find remote rural areas and many national parks, especially when going to the east of mighty Mekong!
If you want to immerse yourself in their culture and tradition, then Eastern Cambodia can teach you a lot.
Transportation and Accommodation Options in Cambodia
There are various modes of transportation and accommodation options when in Cambodia you can choose and be happy with, regardless of your budget or preference.
When going from one place to another, you can travel by:
• Their popular Bamboo Train
• Buses that cost between $5-10
• Charter a private boat or join boat tours
• Rent your own private vehicle
• Scooter or motorbike rental
• Taxis or Tuk Tuks
As for accommodation, there are a lot of usual and unique experiences!
Typically you can stay in any of their beach resorts or luxury hotels. There are also cheaper boutique hotels, hostels, or motels if you're on a budget. If you're the more adventurous type, then try to go camping and surround yourself either by the beaches or rainforests!
"Try out its unique accommodations, especially their floating hotels and treehouses!"
Cambodia also offers "unusual accommodations," such as bungalows offering amazing views of the river, cabins made of drain pipes, or even tents suspended between the trees!
Wrapping It Up
Cambodia's cities are the gateways for adventures and a lot of lessons. Not only is it filled with so many opportunities of experiences and memories, but everything comes at a lower cost and with friendly people to help you around.
As long as you know what attractions to visit and which cities to stay in, you'll definitely have a great time. So go ahead and start planning your itinerary now!