When thinking of spending your holidays in Thailand, you're probably more focused on the endless beaches and attractions! However, the country has so much more to offer than just the average hotel. You can even head on to wellness retreats in Thailand and enjoy the peace and relaxation you deserve.
From yoga programs to herbal meal plans, lots of sun to spectacular resorts, wellness retreats in Thailand have got tons to offer. Read on as I show you all about these retreats and where to go.
What's Special About Wellness Retreats in Thailand?
Why choose Thailand to take your wellness retreats? Thailand is known for more than its history, but its amazing beaches and facilities conducive for fun and relaxation!
Many Wellness Retreats to Choose From
Did you know Thailand is home to dozens of wellness retreats? From luxury resorts to beachside spas, you get to enjoy the time of your life as you take a break and learn to live healthily even after the program. You have a lot of options to choose from, depending on where you want to stay in Thailand and your preferred wellness retreat program.
"Do you want to get away by the beach or hills? The choice is up to you!"
Chill By the Beach
Either chill by the beach or enjoy the spectacular views of the fields and mountains, making it such a memorable holiday! After all, the beach and luxury services are what you aim for if you want the ultimate stress-free vacation. Not only do you get to walk by the beach and enjoy the view, but you also get healing programs for your wellness.
Receive the Best Service
As mentioned, Thailand is filled with luxury wellness resorts that focus on healing and detoxification. With the luxury resort, you get luxury service, from professional medical services to emotional support. You have trained staff to host each program and activity you join, helping you reach your end goals quicker while enjoying your complete break.
Made Affordable For You
While Thailand's wellness retreats aren't the cheapest, they are still considered affordable according to US standards! You get top-class treatment and services in a whole new country at a more affordable rate, including the plane ticket. That's a whole new experience compared to going to your nearby resort at a similar price.
Emotional Healing and Healthier Perspective
Lastly, wellness retreats have the end goal of healing your mind, body, and soul. They offer various therapy packages and programs that promote a healthy lifestyle during and after your wellness retreat. That way, you can live better and learn a lot as you spend your days mindfully.
Wellness Activities You Can Do
Wellness retreats in Thailand have various activities and programs you can follow, all depending on the resort you're visiting, what they offer, and your end goal from the visit.
Here are a few common activities a typical wellness retreat offers:
Yoga and Meditation
One of the top activities done in wellness retreats is at least half an hour of yoga and meditation daily. Here, you will receive guidance and training from professional yogis, helping you with flexibility and exercise. Plus, it heals your mind, from lessening stress and anxiety to enhancing emotional health and self-awareness.
"Yoga is one of the most popular exercises one does to help with both mind and body, rejuvenating your emotions while improving flexibility and balance."
Detox Programs
Emotional healing and spirituality begin with what you eat, too! In some wellness retreats, professionals will calculate your body composition and lifestyle to determine what type of cleansing and detoxing your body needs. They can offer green detoxing, which will help nourish your body and clean your gut, preparing it for healthier eating habits.
Healthy Meal Plans
Besides detox programs, you will receive a good meal plan, according to what you need. You can get into various diets, such as intermittent fasting, ketogenic programs, low-calorie diets, and master cleanses, all of which have awesome health benefits for your mind and body! Diet and wellness coaches will also teach you proper nutrition and diet to continue healthy eating after your retreat.
Spa and Relaxation
No wellness retreat is complete without a spa and good massage! Wellness resorts and retreats offer massages, scrubs, mani-pedis, and a lot more to receive a luxury spa treatment. Your mind will be stress-free as you masseurs remove the knots and aches. You'll arrive home feeling rejuvenated and a whole new person!
Fitspiring Activities
Wellness retreats hold various workshops and workout programs to achieve your fitness goals. There are functional food workshops that teach you about cooking and eating vegan food, workouts to energize your mind and body, as well as education programs to help further your detox and cleansing after your wellness retreat.
How to Prepare For Your Short Visit to Thailand
If you're encouraged to take your wellness retreat in Thailand, how can you prepare for it accordingly?
Depending on your citizenship and passport, you may need a tourist visa. However, US citizens carrying a tourist passport with a return plane ticket don't require one when entering Thailand.
Upon entry, a Thai immigration official will place an immigration stamp in your passport, permitting a 30-day stay in the country.
"You won't need a tourist visa if you're a US citizen, but if you aren't one, then be are to double-check your requirements!"
Next up, be sure to prepare other required personal documents, such as your passport, itinerary, flight tickets, and confirmation for your wellness retreat reservation. As for finances, you may have paid for the wellness retreat online, so be sure to bring enough funds for the wellness retreat, transportation, souvenirs, and for emergencies.
Prepare for your short visit by packing light and making sure you have all the essentials, including your allowance for the trip (plus a bit extra). Here's a basic checklist if you plan to stay for less than four weeks:
• Personal documents and cards (as mentioned above)
• Necessary medication (especially those that require a prescription)
• Your clothes (make sure to pack activewear and a swimsuit)
• Toiletries (though you can purchase these or they come with your wellness retreat package)
• Phone and camera (for contact purposes and to document your trip!)
Once you're packed and with a flight reservation (preferably a day or two before your wellness retreat begins), you're ready to go! Make sure to let your family and friends know where you'll be, providing an itinerary and contact details for them to reach you.
Top Three Wellness Retreats in Thailand
Where should you go for health and wellness when in Thailand? From the dozens of wellness centers and resorts, these are the three you should consider visiting:
1. The LifeCo, Phuket
The LifeCo is located in Phuket, one of Thailand's beautiful islands! The LifeCo, they offer professional medical services and mindfulness support as you enjoy their lifestyle programs and therapy packages.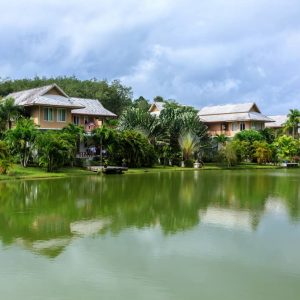 The resort has been in business for over 15 years of providing high-quality detoxification and healing programs amidst the spectacular atmosphere of Thailand. Their center has a completely green environment as you enjoy breaks by the lake and nature-inspired villas.
You'll find everything you need to refresh your mind and body in The LifeCo, from exotic Thai massages and detox programs. There are yoga and meditation workouts and therapies to cleanse your mind and body, too! With well-trained staff and the perfect, luxurious environment, you can definitely heal from stress or even use their wellness retreats as you recover from illnesses.
2. Museflower Retreat and Spa, Chiang Rai
The Museflower Retreat and Spa is located in Chiang Rai, a peaceful space perfect to take a break from years of stress! If you feel disconnected and exhausted, wanting to get away from it all, you can slow down and reconnect in their wellness retreat.
The resort is filled with nature and the green ambiance, being an all-inclusive vegetarian center. You can find a lot of holistic natural living, learning, and healing practices to put your mind at ease.
Museflower Retreat and Spa offers wellness retreats with yoga and spa programs. They also host creative workshops and wellness and training events to learn a lot about detoxing, cleansing and improving your lifestyle.
3. Santosa Detox and Wellness Center, Phuket
Santosa Detox and Wellness Center focuses more on teaching and practicing the benefits of detoxing to their clients. The resort is close to the Kata Beach for the beautiful shoreline and surroundings, offering wellness retreats between three days to three weeks.
All the wellness programs they offer covers everything between:
• Detoxes
• Yoga Retreats
• Cleansing
• Healthy Vegan
• Emotional Healing
Santosa offers a dedicated and professional team that works directly with you and at your own pace, so you know where you stand both physically and emotionally. Not only do they give you the proper services to detox and heal your body and soul, but they also offer excellent advice and education to keep you free from toxins and stress.
"These are just a few of the many amazing wellness retreats and resorts Thailand offers. Check out more and see what other programs you may prefer!"
Wrapping It Up
If you're heading to Thailand for some fun and relaxation under the sun, then wellness retreats are perfect for you. You don't only get to immerse in the beauty of Thailand, but take a journey to find yourself and your peace.
Check out any of these wellness retreats to see which program and area suit best for you now!