We all deserve a break, whether it's from school, work, or just the hustle and bustle from the city life. Today, there are more destinations that cater to those who need the full escape. In fact, many of these places promote health and wellness, from being closer to nature, better diets, or spiritual activities!
If you're visiting Southeast Asia, you can find many wellness retreats in the Philippines for your R&R. Read on to learn more about the wellness industry in the Philippines and how to prepare for your trip!
What Is Special About Wellness Retreats in the Philippines?
What can you expect when in a wellness retreat in the Philippines? You'll be surprised by how unique wellness retreats are in this beautiful country! Here are reasons why you should experience a retreat here at least once in your life:
1. Get to Explore and Learn About Wellness
When you're in a wellness retreat, you won't only perform activities to rejuvenate your mind and body. You'll also learn a lot about wellness and how you can follow a better lifestyle once you're home.
"There are lots of lessons to learn from so you can achieve ultimate health and wellness even at home."
Wellness retreats hold classes made to learn all about the importance of yoga and meditation, as well as how you can implement it in your daily life. Furthermore, you learn more about the meals you eat during the retreat, its benefits, and how you can make it at home!
2. Ultimate Peace and Relaxation
The main point of a wellness retreat is to achieve ultimate peace and relaxation. You can do this in the Philippines, where you are surrounded by natural resources in the country, whether it's by rainforests and mountains, or the relaxing sandy beaches.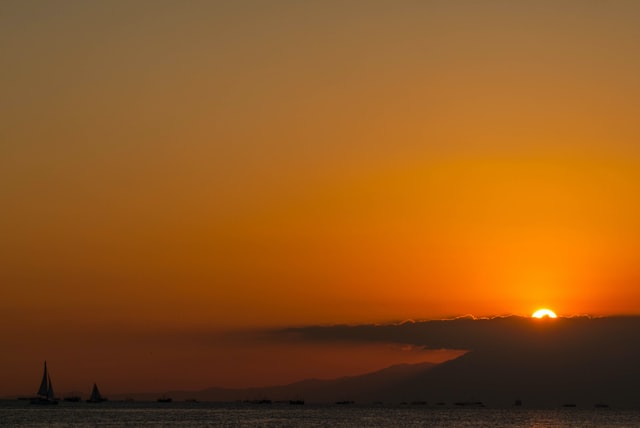 You get a sense of spirituality not only when around nature, but by the beautiful structures designed to think about your health and wellness. There will also be various wellness activities unique to the Philippines that can help free your spirits!
3. Meet Like-Minded Locals and Foreigner Travelers
You won't be the only one in the wellness retreat, but with other like-minded guests. While you may think it will be a disturbance, it's actually quite the opposite. When you meet fellow foreigner travelers and locals who want to relax as much as you do, you get to create lasting connections and relationships.
"You get to encounter different people from all over the world who want to adopt a similar lifestyle you'd like: Wellness and relaxation."
Create a small community even after the retreat to support healthier lifestyle choices, or even create networks for your needs. These relationships will definitely empower you and help you open your mind to new experiences and perspectives.
Wellness Activities In the Philippines
What do wellness retreats in the Philippines have to offer? You'll be offered a smorgasbord of activities and facilities you can enjoy! Here are some of the basic activities you can expect to do when in wellness retreats:
1. Yoga and Meditation Classes
Yoga and meditation are the first two activities you can expect to do and learn about during a wellness retreat. These are excellent ways to free your mind, body, and soul from any stressors and tension felt from work back at home.
With yoga, you get to practice your breathing, as well as improve your strength and flexibility as you perform new poses to benefit your body. Meditation focuses more on mindfulness and spirituality to diminish negative thoughts!
2. Healthy Cooking and Diet Programs
You are what you eat! Not only does your diet affect the way you look, but how your mind and body would feel and function. That's why wellness retreats serve only the healthiest food according to your diet and goals.
If you want to lose weight, you will be given meals from programs such as low-carb diets, intermittent fasting, or vegetarian diets. For those who look to cleanse their body and spirit, there are detoxes to follow, whether it's an all-vegetable diet or juicing program.
You will also get to learn all about how you can follow these diets and recreate meals unique to the Filipino taste.
3. Amazing Spa Treatments
And lastly, what wellness retreat won't include spa treatments? From massages to mani-pedis, you can further relax without lifting a finger as professional masseurs and therapists work to release any knots and tension from your body.
"Release the stressors from daily life and feel like a whole new person with professional massages!"
Spa treatments are a truly relaxing experience that frees the mind and body, leaving you relaxed and calm afterward. It can also ready your body for the next yoga session, as well as to further inspire you to get back to work, being even more productive after the retreat!
How to Prepare For Your Short Visit to the Philippines
Before you start enjoying your wellness retreat in the Philippines, you first have to prepare for your trip!
Fortunately, you won't need a tourist visa when traveling to the Philippines for a short trip. You only need a valid passport with space for the entry visa stamp.
"There is no visa needed for the Philippines, but make sure your passport and travel documents are valid."
Consider when you plan to book your flight. I highly recommend to book your flight and wellness retreat during the months where it isn't as crowded, but with good weather. April to June is the summer season when you can really enjoy the scenic retreats and have fun under the sun.
Once you have your flight details and accommodation set, it's time to begin packing. Pack according to the weather, using clothes meant for hot and humid weather.
You may want to pack some active wear and clothes for the rainy season since the weather is erratic and you'll be doing some fitness activities. Also, pack sun protection, such as sunscreen, insect repellents, hats, among others. And of course, pack your travel documents, prepare your finances, as well as other personal medication and toiletries.
Let your loved ones know about your travel details and now all you have to do is to wait for your trip!
Three Wellness Retreats In the Philippines
Where should you go for the ultimate R&R? These are some of the wellness retreats in the Philippines to consider visiting:
1. Qi Palawan
Qi Palawan is just an hour's drive away from the amazing El Nido, which is the most popular island in Palawan!
The wellness retreat is far away from the noise and crowds from El Nido's town proper, with just seven rooms and away from any neighboring resorts. So you can expect to have the place all to yourself, with only a few people and staff around as you get your privacy.
Every morning, you can go for their free yoga classes in their open-air rooftop studio, where you can see and hear the vast ocean, the treetops, and the morning sky. They also offer a lot of spa treatments in their center, from Swedish and Filipino massages, down to herbal baths.
As for food, expect Spanish-Filipino cuisine, with fresh salads and vegetable dishes that come straight from the wellness resort's organic gardens!
2. The Farm at San Benito
The Farm at San Benito is a mere three-hour drive from the busy city of Metro Manila. This wellness resort boasts holistic wellness services meant for the entire mind, body, and spirit.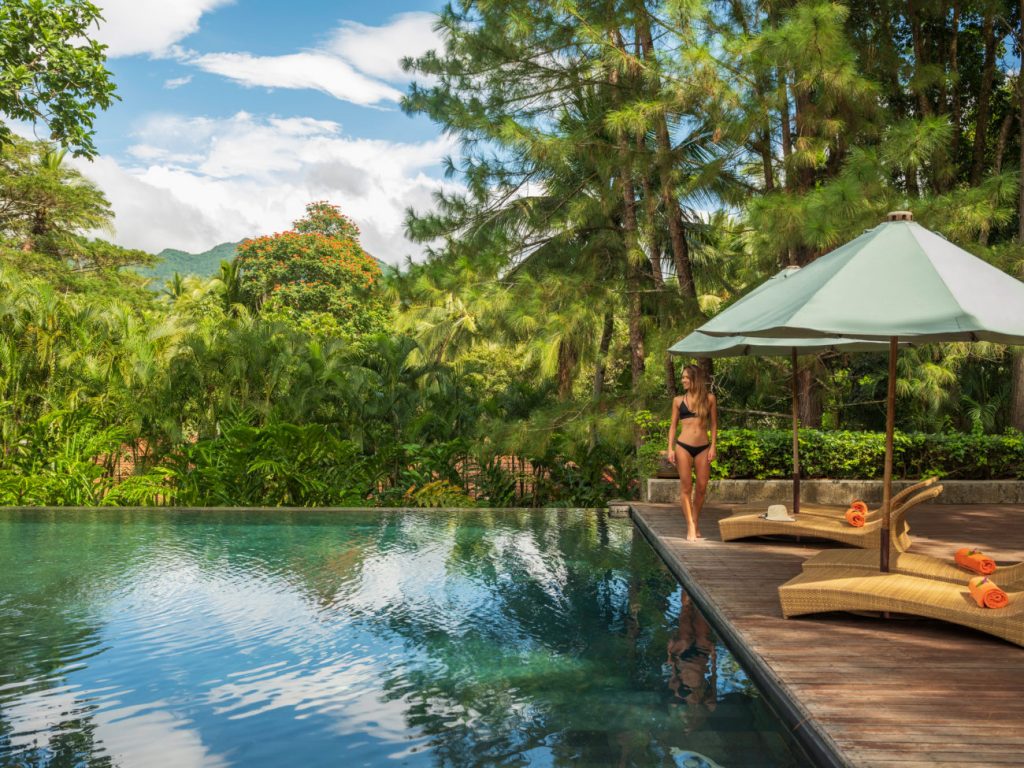 They offer numerous programs such as restorations for the mind and body or detox cleanses, you can find a long list of various treatments made for any guest. They have a large team of professionals, from medical doctors, fitness coaches, yoga instructors, and a nutritionist to help you achieve your goals and learn how to become healthy even after the retreat.
The resort is 50 hectares big filled with lush greens, deluxe villas, a huge spa center, a vegan restaurant, organic gardens, a gym, pools, and the ambiance you will feel relaxed from alone! This is not only the one-of-a-kind wellness retreat but the luxurious experience you deserve.
3. Lotus Shores
Lotus Shores is located in Surigao del Norte, which is the ultimate surfer's paradise. The wellness resort is located by the sea, a sweet escape meant to achieve peace, health, wholeness, and to reconnect with nature.
The resort hires professionals such as yoga teachers, bodywork therapists, chefs, and surf guides! There are four yoga classes daily in their "Dojo" studio, where you can practice various types of yoga for strength building and rejuvenation. If you're up for a more adventurous way to relax, head on to the waves to learn and practice your surfing skills!
Furthermore, they follow a plant-based diet as a part of the resort's detoxification program. Chefs will encourage their guests to learn all about their recipes to follow even after going home.
You can choose to stay in a solo or couple room, or save up and meet new people in a shared dormitory that accommodates three guests.
Wrapping It Up
If you need a break from the monotonous routine in the city, then head on to the Philippines for a wellness retreat! You'll feel nourished and relaxed after all the spiritual activities and healthy eats.
For those who plan to go to the Philippines for their escape, then check out any of their top wellness resorts and prepare for your trip now!